Details
Screenshots
Version history
What's new in this version
Ensemble Ready!
Accept JSON in XDATA body
Accept HTML expression between #
Accept deep class navigation on Index declaration
Recognition of a list of values in SqlComputeOnChange option on Property specification
More debug information added in case you get a parser error on a file
Analyze your ObjecScript source code to find bugs and vulnerabilities, obtain detailed Unit Test Coverage, and improves your software process management using your own KPIs, always focused on code quality
Fixes
Method not found rule now distinguishes between a property and a method in a class call like ..call(x), where 'call' can be a method or an array property
Empty method rule ignores foreign method to avoid false positives
Improvement on Method never invoked rule to detect inheritance in more cases
Incompatible argument type in a method was generating a null pointer parsing when type was not defined
SoapAction method modifier was not accepting a String
New Rules
Features
Fin bugs and vulnerabilities
Unit Test Coverage
Discover your Technical Debt
Enforce coding standards.
Discover duplicated code.
Most common metrics: complexity, DIT, WIT, CBO, Response for Class, Halstead, SEI, and much more. Check here for a complete list.
Definition of Quality Gates to automatically check your KPIs on each analysis.
Definition of Quality Profiles to assign different set of rules to different projects.
API to create your own rules.
Connect with any InterSystems product (IRIS Data Platform, Caché, Ensemble) to retrieve source code.
Connect with your preferred source code manager to retrieve source code.
Ability to connect to your ticketing system to arise issues automatically.
Installation
For a full installation guide, click here.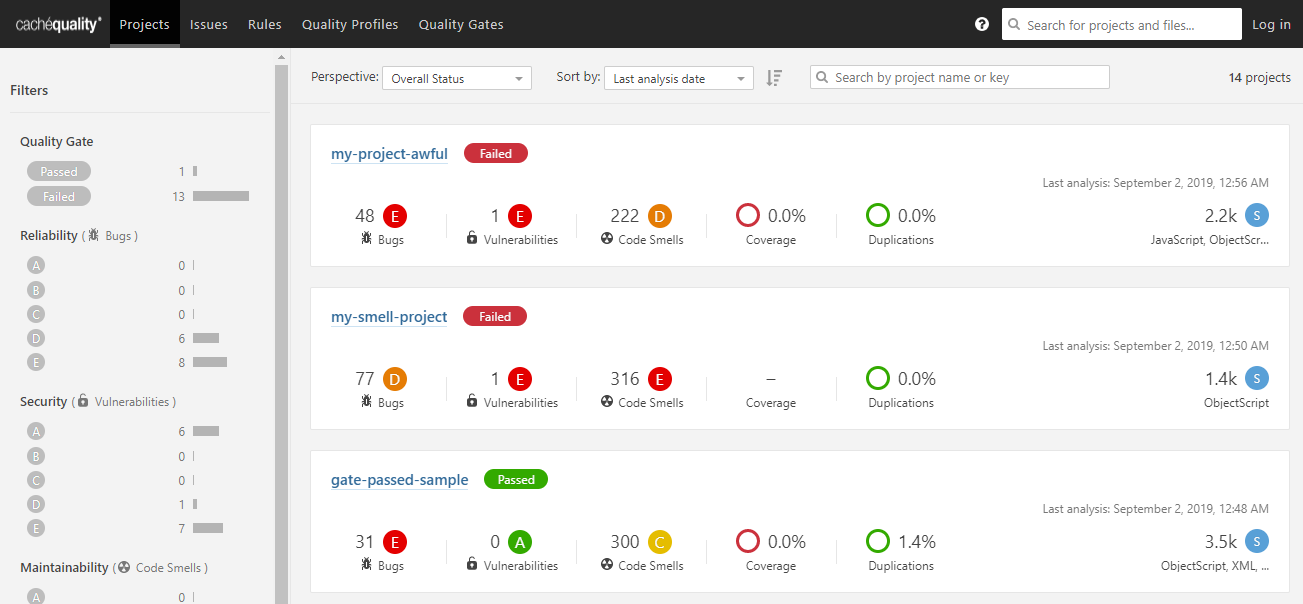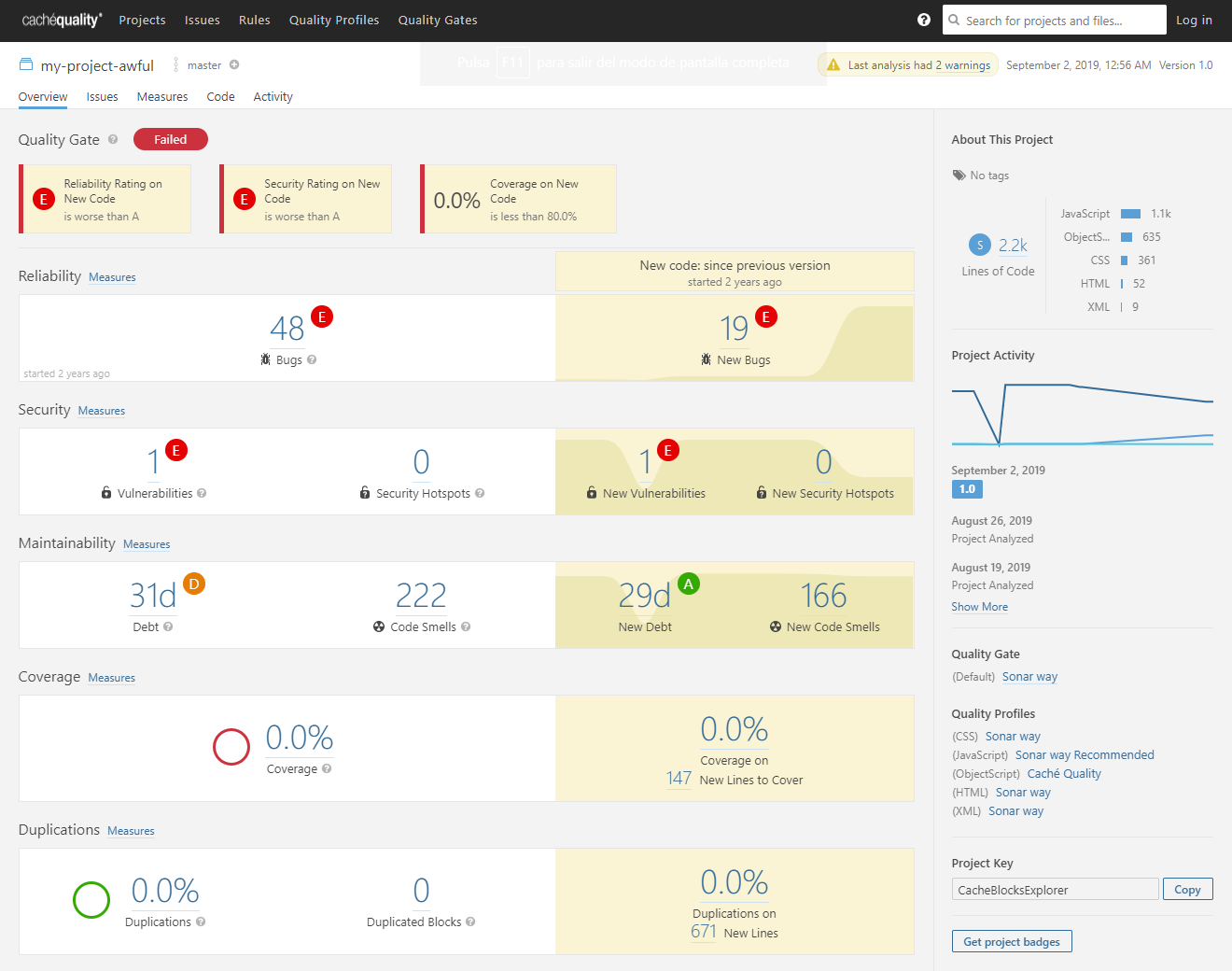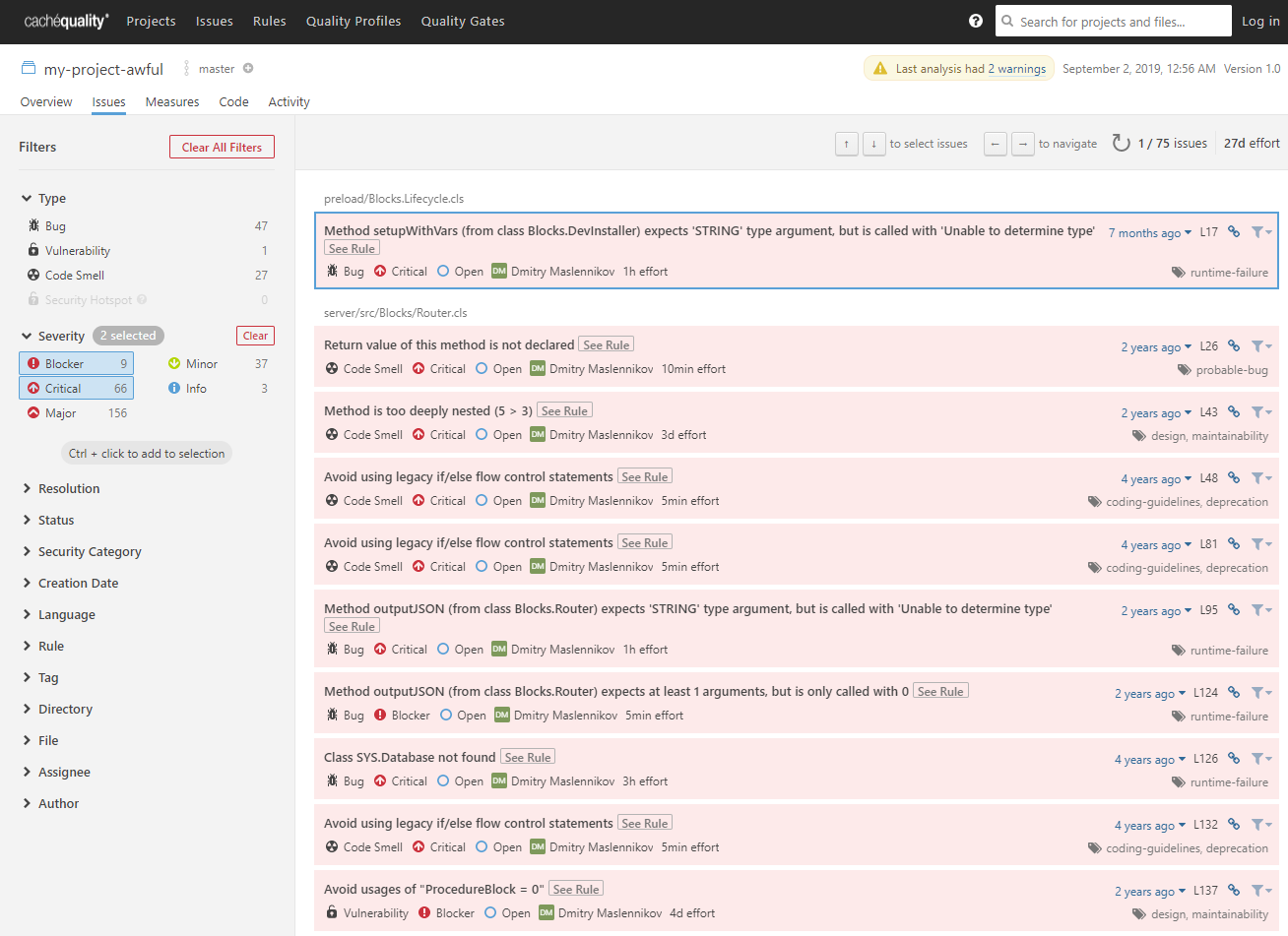 1.3.10
Released: 2019-09-03
Ensemble Ready!
Accept JSON in XDATA body
Accept HTML expression between #
Accept deep class navigation on Index declaration
Recognition of a list of values in SqlComputeOnChange option on Property specification
More debug information added in case you get a parser error on a file
1.3.9
Released: 2019-06-17
Belongs to
1.3.8
Released: 2018-09-26
Changed logo image
1.3.8
Released: 2018-09-28
Changed logo image
1.3.8
Released: 2018-09-28
Changed logo image
1.3.7
Released: 2018-09-06
1.3.7
1.3.4
Released: 2018-09-28
aa
There is no versions yet
Download count: 64